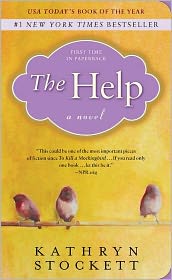 1. The Help - By Kathryn Stockett
* Pub. Date: April 2011
* Publisher: Penguin Group (USA)
* Format: Paperback , 544pp
* ISBN-13: 9780425232200
* ISBN: 0425232204
Overview
Be prepared to meet three unforgettable women:
Twenty-two-year-old Skeeter has just returned home after graduating from Ole Miss. She may have a degree, but it is 1962, Mississippi, and her mother will not be happy till Skeeter has a ring on her finger. Skeeter would normally find solace with her beloved maid Constantine, the woman who raised her, but Constantine has disappeared and no one will tell Skeeter where she has gone.
Aibileen is a black maid, a wise, regal woman raising her seventeenth white child. Something has shifted inside her after the loss of her own son, who died while his bosses looked the other way. She is devoted to the little girl she looks after, though she knows both their hearts may be broken.
Minny, Aibileen's best friend, is short, fat, and perhaps the sassiest woman in Mississippi. She can cook like nobody's business, but she can't mind her tongue, so she's lost yet another job. Minny finally finds a position working for someone too new to town to know her reputation. But her new boss has secrets of her own.
Seemingly as different from one another as can be, these women will nonetheless come together for a clandestine project that will put them all at risk. And why? Because they are suffocating within the lines that define their town and their times. And sometimes lines are made to be crossed.
In pitch-perfect voices, Kathryn Stockett creates three extraordinary women whose determination to start a movement of their own forever changes a town, and the way women-mothers, daughters, caregivers, friends-view one another. A deeply moving novel filled with poignancy, humor, and hope, The Help is a timeless and universal story about the lines we abide by, and the ones we don't.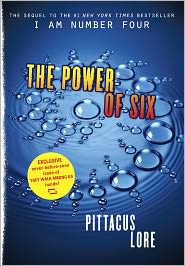 2. The Power of Six (Lorien Legacies Series #2) Exclusive Edition - by Pittacus Lore
* Pub. Date: August 2011
* Publisher: HarperCollins Publishers
* Format: Hardcover , 416pp
* Age Range: Young Adult
* Series: Lorien Legacies Series #2
* ISBN-13: 9780062111630
* ISBN: 0062111639
Overview
In I Am Number Four, the Mogadorians have tracked down and killed the writers of the newsletter They Walk Among Us. But someone is continuing with the newsletter, sending out updates of what is happening to John and the rest of the Lorien Nine. Could it be a trap planted by the Mogadorians, or is it someone trying to help them? In the B&N exclusive version of The Power of Six, a new issue of the newsletter will be included in the back of the book as an eight-page gatefold, and it will be perforated for easy removal.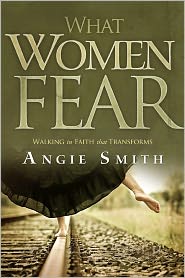 3. What Women Fear: Walking in Faith that Transforms - by Angie Smith
* Pub. Date: September 2011
* Publisher: B&H Publishing Group
* Format: Paperback , 224pp
* ISBN-13: 9780805464290
* ISBN: 0805464298
Overview
A woman's faith in God is challenged by the first question Satan asks Eve in the Bible: "Did God really say you can't eat from any tree in the garden?" That seed of doubt and the story it begins to unfold breed a concept of fear still haunting each of us on some level every day-the idea that our actions could ruin something beautiful, and God might not have control of things.
In What Women Fear, acclaimed writer and speaker Angie Smith admits, "fear is a major part of my testimony" and talks openly about her treatment for anxiety as a child. Giving a voice to the problem, she says, "I truly believe every single one of us struggles with some type of fear, whether it's fear of flying or fear of being 'found out.' Maybe you don't worry about dying, but you get sick thinking about the fact that you might fail."
Rather than suggesting that those who truly love the Lord would never fear, Angie blends her own experiences with those of men and women from throughout Scripture to help us start dealing more effectively with these true, human emotions. Whether it's a constant "What if?," a nagging fear of abandonment or betrayal, fear of your own or someone else's death, fear of trusting God's plan, or even the fear that God's existence is a lie, Angie will walk you through stories of others who have simultaneously loved God and struggled with fear. Join Angie and discover how to let Jesus redeem this struggle as only He can, that He will be glorified, and you will be transformed!
Endorsements
Angie Smith has the rare gift to write a non-fiction page-turner as good as any fiction book I've read. As her words tumbled out in raw honesty, fresh hope spread before me. Her teachings on fear are comforting, practical, and gut honest. I can't wait for you to read this life-changing book. What Women Fear is one of my favorites this year. Honestly, I think it will stay next to my bed for a very long time.


Lysa TerKeurst, New York Times best-selling author of Made to Crave
You don't have to be around Angie Smith very long to fall in love with her. She is funny and transparent with a passionate love for Christ. In What Women Fear Angie holds up a mirror so that we can see ourselves from every angle, the thoughts we display on the front shelves of our lives and those we hide. The greatest gift tucked into this book is the overwhelming picture of the mercy of our God who understands our fears and invites us to stand beside Him in the rain and let His love wash us clean.
Sheila Walsh, author of The Shelter of God's Promises
Whatever high wire you're walking right now, there really is nobody you want at the other end of the line like Angie Smith. And this rare gem of a book is like a steadying, sure hand taking you right into His presence in ways you never imagined. Vivid, profoundly biblical, yet girlfriend real with just-the-medicine-you-need-funny, every page is reviving hope for every woman. Simply, Angie Smith is a Bible teacher for such a time as this.
Ann Voskamp, New York Times best-selling author of One Thousand Gifts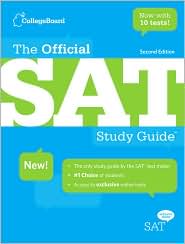 4. The Official SAT Study Guide - by The College Board
* Pub. Date: July 2009
* Publisher: Holt, Henry & Company, Inc.
* Format: Paperback , 1100pp
* ISBN-13: 9780874478525
* ISBN: 0874478529
Overview
The Official SAT Study Guide™ —with more than two million sold—just got better! Now offering 10 practice tests, The Official SAT Study Guide: Second Edition™ is the only book that features official SAT® practice tests created by the test maker. With over 1,000 pages and more than 20 chapters, it's packed with the most up-to-date information students need to get ready for the test.
Students will gain valuable experience and raise their confidence by taking practice tests, by reviewing critical concepts, test-taking approaches, and focused sets of practice questions just like those on the actual SAT.
The Official SAT Study Guide: Second Edition will help students get ready for the SAT with
- 10 official SAT practice tests, including 3 new recent exams
- detailed descriptions of math, critical reading, and writing sections of the SAT
- targeted practice questions for each SAT question type
- practice essay questions, along with sample essays and annotations
- a review of math concepts tested in the exam
- test-taking approaches and suggestions that underscore important points
- free online score reports
- exclusive access to online answers and explanations at collegeboard.com
- $10 discount on The Official SAT Online Course to all book owners
There's also a complete chapter on the PSAT/NMSQT®.
5.Inheritance (Inheritance Cycle Series #4) - by Christopher Paolini
* Pub. Date: November 2011
* Publisher: Random House Children's Books
* Format: Hardcover , 880pp
* Age Range: Young Adult
* Series: Inheritance Cycle Series #4
* ISBN-13: 9780375856112
* ISBN: 0375856110
Overview
Not so very long ago, Eragon—Shadeslayer, Dragon Rider—was nothing more than a poor farm boy, and his dragon, Saphira, only a blue stone in the forest. Now the fate of an entire civilization rests on their shoulders.
Long months of training and battle have brought victories and hope, but they have also brought heartbreaking loss. And still, the real battle lies ahead: they must confront Galbatorix. When they do, they will have to be strong enough to defeat him. And if they cannot, no one can. There will be no second chances.
The Rider and his dragon have come further than anyone dared to hope. But can they topple the evil king and restore justice to Alagaësia? And if so, at what cost?
This is the much-anticipated, astonishing conclusion to the worldwide bestselling Inheritance cycle.
From the Hardcover edition.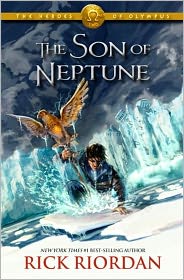 6. The Son of Neptune Exclusive Edition (Heroes of Olympus Series #2) - by Rick Riordan
* Pub. Date: October 2011
* Publisher: Hyperion Books for Children
* Format: Hardcover , 544pp
* Age Range: 9 to 11
* Series: Heroes of Olympus Series #2
* ISBN-13: 9781423140597
* ISBN: 1423140591
Overview
This exclusive edition includes never-before-seen full-color brochure for Camp Jupiter recruits! Camp Jupiter -- where young demigods go to learn how to become a true soldier of Rome.
In The Lost Hero, three demigods named Jason, Piper, and Leo made their first visit to Camp Half-Blood, where they inherited a quest:
Seven half-bloods shall answer the call,
To storm or fire the world must fall.
An oath to keep with a final breath,
And foes bear arms to the Doors of Death.
Who are the other four mentioned in the prophesy? The answer may lie in another camp miles away, where a new camper has shown up and appears to be the son of Neptune, god of the sea. . . .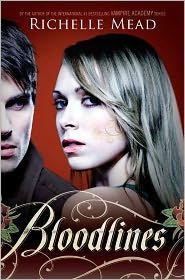 7.Bloodlines (Bloodlines Series #1) - by Richelle Mead
* Pub. Date: August 2011
* Publisher: Penguin Young Readers Group
* Format: Hardcover , 1pp
* Age Range: Young Adult
* Series: Bloodline Series #1
* ISBN-13: 9781595143174
* ISBN: 1595143173
Overview
The first book in Richelle Mead's brand-new teen fiction series - set in the same world as Vampire Academy.
When alchemist Sydney is ordered into hiding to protect the life of Moroi princess Jill Dragomir, the last place she expects to be sent is a human private school in Palm Springs, California. But at their new school, the drama is only just beginning.
Populated with new faces as well as familiar ones, Bloodlines explores all the friendship, romance, battles and betrayals that made the #1 New York Times bestselling Vampire Academy series so addictive - this time in a part-vampire, part-human setting where the stakes are even higher and everyone's out for blood.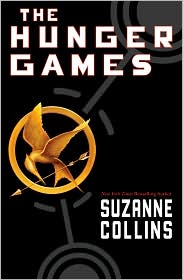 8.The Hunger Games (Hunger Games Series #1) - by Suzanne Collins
* Pub. Date: July 2010
* Publisher: Scholastic, Inc.
* Format: Paperback , 384pp
* Age Range: Young Adult
* Series: Hunger Games Series #1
* ISBN-13: 9780439023528
* ISBN: 0439023521
Overview
Now in paperback, the book no one can stop talking about . . .
In the ruins of a place once known as North America lies the nation of Panem, a shining Capitol surrounded by twelve outlying districts. The Capitol is harsh and cruel and keeps the districts in line by forcing them all to send one boy and one girl between the ages of twelve and eighteen to participate in the annual Hunger Games, a fight to the death on live TV. Sixteen-year-old Katniss Everdeen, who lives alone with her mother and younger sister, regards it as a death sentence when she is forced to represent her district in the Games. But Katniss has been close to dead (cont'd)
9.The Buddha in the Attic - by Julie Otsuka
* Pub. Date: August 2011
* Publisher: Knopf Doubleday Publishing Group
* Format: Hardcover , 144pp
* ISBN-13: 9780307700001
* ISBN: 0307700003
Overview
Julie Otsuka's long awaited follow-up to When the Emperor Was Divine ("To watch Emperor catching on with teachers and students in vast numbers is to grasp what must have happened at the outset for novels like Lord of the Flies and To Kill a Mockingbird" —The New York Times) is a tour de force of economy and precision, a novel that tells the story of a group of young women brought over from Japan to San Francisco as 'picture brides' nearly a century ago.
In eight incantatory sections, The Buddha in the Attic traces their extraordinary lives, from their arduous journey by boat, where they exchange photographs of their husbands, imagining uncertain futures in an unknown land; to their arrival in San Francisco and their tremulous first nights as new wives; to their backbreaking work picking fruit in the fields and scrubbing the floors of white women; to their struggles to master a new language and a new culture; to their experiences in childbirth, and then as mothers, raising children who will ultimately reject their heritage and their history; to the deracinating arrival of war.
In language that has the force and the fury of poetry, Julie Otsuka has written a singularly spellbinding novel about the American dream.
10. Heaven Is for Real: A Little Boy's Astounding Story of His Trip to Heaven and Back - by Todd Burpo , Colton Burpo , Lynn Vincent
* Pub. Date: November 2010
* Publisher: Nelson, Thomas, Inc.
* Format: Paperback , 163pp
* ISBN-13: 9780849946158
* ISBN: 0849946158
Overview
A young boy emerges from life-saving surgery with remarkable stories of his visit to heaven.
Heaven Is for Real is the true story of the four-year old son of a small town Nebraska pastor who during emergency surgery slips from consciousness and enters heaven. He survives and begins talking about being able to look down and see the doctor operating and his dad praying in the waiting room. The family didn't know what to believe but soon the evidence was clear.
Colton said he met his miscarried sister, whom no one had told him about, and his great grandfather who died 30 years before Colton was born, then shared impossible-to-know details about each. He describes the horse that only Jesus could ride, about how "reaaally big" God and his chair are, and how the Holy Spirit "shoots down power" from heaven to help us.
Told by the father, but often in Colton's own words, the disarmingly simple message is heaven is a real place, Jesus really loves children, and be ready, there is a coming last battle.
For More Information and Details This product of Top 10 Best Selling Books - August 2011 are avaliable at our sponsor , please fell free to visits Our Sponsor to see another products at :